Canyon Lake has 80 miles of scenic shoreline, covers an 8,230 surface acre area and is located on the Guadalupe River in Comal County, Texas.. You will find Canyon Lake located approximately half way between San Antonio and Austin, approximately 14 miles northwest of New Braunfels on FM 306 west from IH-35. It is one of the deepest lakes in Texas with an average depth of 43 feet and is great for fishing. The reservoir was first stocked in the 1970's and has an abundance of Largemouth Bass, Catfish, and White & Striped Bass.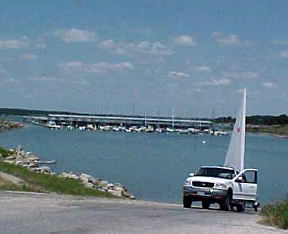 Boat launch with marina in background
The U.S. Army Corps of Engineers manages eight public parks along the Canyon Lake shoreline. Cranes Mill Park and Comal Park are located on the south side and Potters Creek Park, Canyon Park, Jacobs Creek Park, North Park, Overlook Park, and Guadalupe Park are all on the north side. These parks offer camping, trailer, and picnicking areas, and boat ramps. Canyon Lake fishing is great and several record fish have been caught.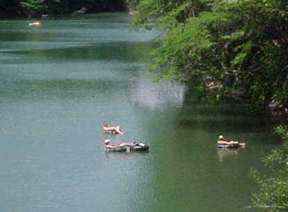 Want more than boating activities? Right below the Canyon Dam off FM 306, you can go tubing down the Guadalupe River. Several river outfitters are located along the highway.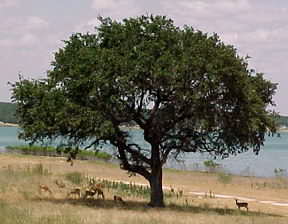 Deer under a tree at Canyon Lake
Texas has over 4 million deer and a lot of them live in Comal County. Nature lovers will find plenty to observe with the variety of sea birds. There are many white-tail deer around the lake areas and you will find them grazing in the front yards of many of the homes.